Family and friends… are you ready to relax, reconnect and rediscover adventure?
With some family vacations being canceled this summer, Camp Oak Hill is offering a fun filled, gospel centered Weekend of Worship "WoW" getaway to allow family and friends to relax, reconnect and rediscover adventure! In this all inclusive weekend let us take care of the dishes, the activities, the planning… so you can just enjoy and become a kid again.
Like adventure? Try out our 100 foot water slide called the "Wet Willie", water trampoline or participate in our Scaventure and Mission Impossible programs. Looking to relax?  Float in our pool or enjoy a cup of coffee while rocking on the front porch of the dining hall. We also have some great times of worship planned to help refocus and refresh the whole family. We hope you leave exhausted (in a good way) because of the fun, encouraged in your faith and full of family memories.
Will you join us for Camp Oak Hill's Family WoW Weekend?
$600 to rent a cabin for a family of 4. This is all inclusive (lodging, meals, activites, program,  etc.) $50 for each additional person over 4 in a cabin. Children 5 or under are free.
Family WoW Weekend Schedule:
Friday
6:00pm – 7:00pm: Check In
7:00pm – 8:00pm: Opening / Welcome in Activity Center
8:00pm – 10:00pm: Family Pool Party / Mission Impossible (split by crews)
10:00pm: Back to Cabins
10:30pm: Lights Out
Saturday
8:00am – 8:30am: Wake Up
8:30am – 9:30am: Breakfast
9:30am – 10:00am: Family Devotion Time
10:00am – 12:00pm: Family Activity Time (Big Lake Side Open: Wet Willie Waterslide, Lake, Water Trampoline)
12:30pm – 1:30pm: Lunch
1:30pm – 2:30pm: Family Time/ Rest Time
2:30pm – 3:30pm: Family Scaventure
3:30pm – 5:30pm: Family Activity Time (Boating, Pool, Activities on Main Campus)
6:00pm – 7:00pm: Dinner
7:00pm – 8:30pm: Family Free Time (Gym, Front Lawn Games, Outdoor Court)
8:30pm – 10:00pm: Family Movie Night
10:00pm: Back to Cabins
10:30pm: Lights Out
Sunday
8:00am – 8:30am: Wake Up
8:30am – 9:30am: Breakfast
9:30am – 10:30am: Family Worship/Prayer Time
10:30am – 12:00pm: Pack Up/Clean Up/ Check out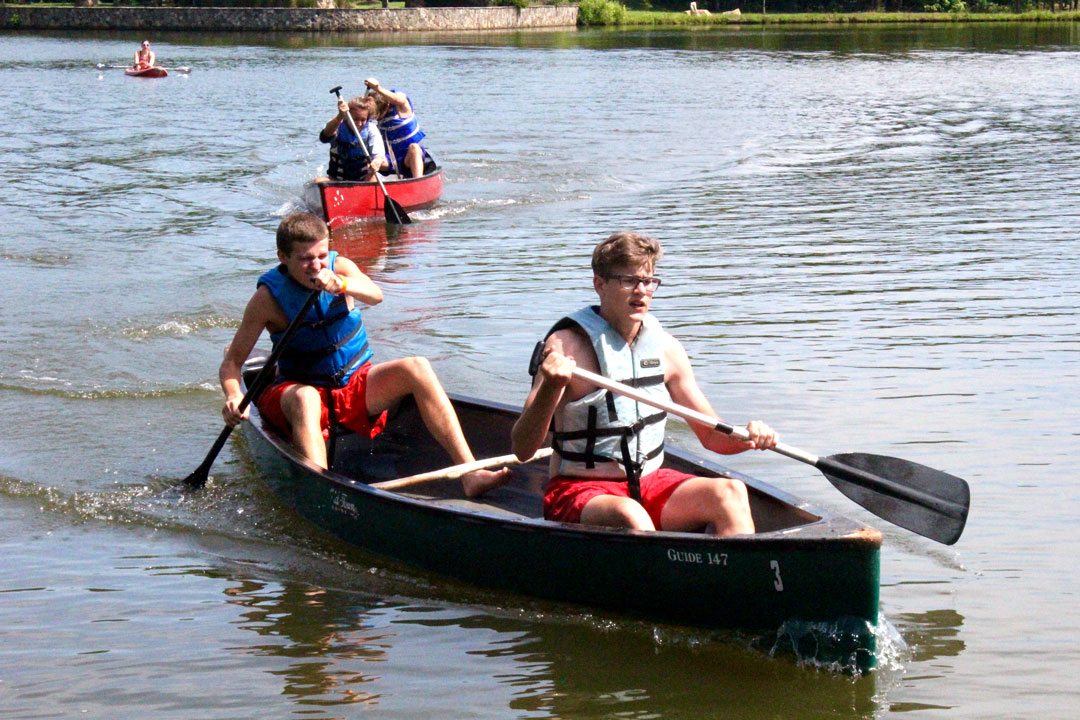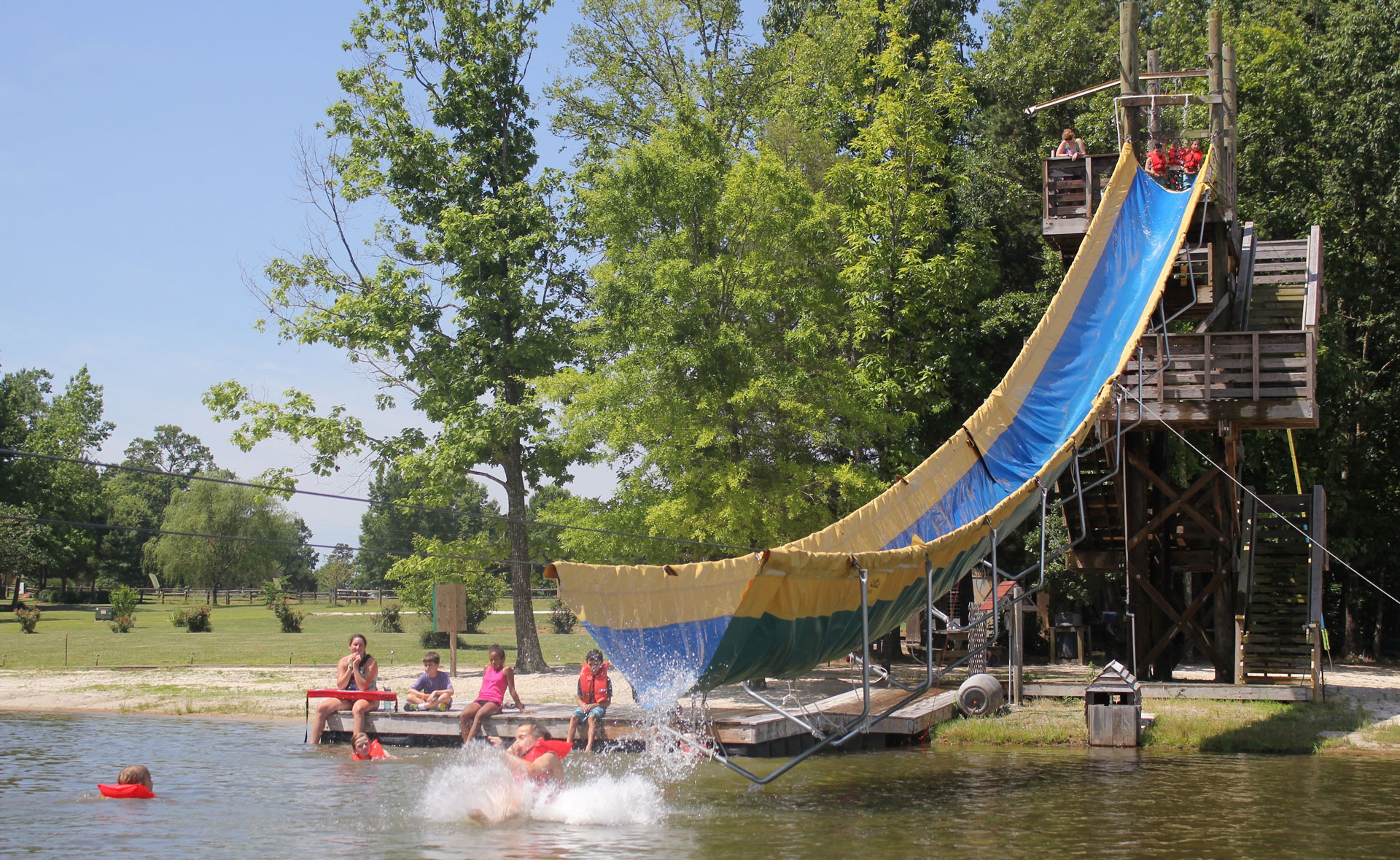 IN LIGHT OF COVID-19, HOW WILL THE FAMILY WOW WEEKEND AT CAMP OAK HILL ADDRESS SAFETY PROTOCOLS?
Based on guidelines for summer camps received from the ACA and CDC, Camp Oak Hill will operate using the Concentric Circle of Infection Prevention model. This model suggests that in absence of medical risk factors, the likelihood of contracting an infectious disease is diminished by combining diligent social distancing practices with a reduced amount of exposure time around other people. To replicate this model, we are modifying our procedures in the following ways.
We are limiting each cabin to a maximum of 10 family members or friends. Each cabin will be considered as a "family unit" and will experience the entire retreat together. Members within their family unit will not be required to wear face masks around one another. Each family unit will practice routine social distancing, but this group will be well-connected and interactive with one another.
Beyond their cabin family unit, each cabin will be a part of a "crew." A crew is a grouping of cabins, limiting their exposure to less than 40 people. Families within each crew may be allowed to experience certain activities together, but with stricter social distancing procedures. For example, two cabins within the same crew might use the pool at the same time, but they will be confined to two separate areas of the pool. This allows us to limit camper exposure to one another, enable accurate contract tracing should we need it, and allow time for proper sanitization of each activity area between each crew's use.
WHAT IS YOUR COVID-19 PLAN?
Camp Oak Hill has taken extra measures this fall following ACA/CDC Guidelines specific to COVID-19. 
We are increasing the sanitization of equipment and facilities between each family unit's use and each crew daily as well as an enhanced sanitization process of cabins.
We will also be increasing hand washing and hand sanitizer throughout the day for all families.
WILL FAMILY WOW WEEKEND BE FULL?
We will be reducing our overall capacity by 50 percent to 120 people. These smaller numbers reduce overall risk, improve social distancing on our 105-acre campus, and allow families to be able to participate in even more activities.
HOW WILL LODGING WORK?
For $600 you will reserve one of our cabins for your family up to 4 family members. Any other family or friends staying in the cabin over 4 people will be an additional $50 per person. Children under 5 are free. Feel free to invite friends you feel comfortable staying with (Maximum amount allowed in one cabin 10 people) This is an all inclusive rate including lodging, meals, activities, etc. We have 12 cabins to reserve so space is limited.
WHAT PAPERWORK WILL I NEED TO FILL OUT?
Parents will need to sign an additional release form and a parent agreement reinforcing their responsibilities and commitment to making sure their family arrives at camp healthy. In addition to the regular healthcare forms, we are asking parents to record their family's temperature and physical symptoms every day leading up to the weekend for ten days prior to check-in. This new required form will be available to download in your Campwise account and on our website.
IS THERE ANYTHING REQUIRED OF ME BEFORE COMING TO CAMP?
In addition to the new healthcare form mentioned above for tracking symptoms and temperatures prior to arriving at camp, we are asking our families to continue to be mindful of their public exposure before coming to camp. To help keep our camp community safe, please wear a face mask in public places, and practice diligent handwashing and social distancing.
WILL MY FAMILY BE REQUIRED TO WEAR A FACE MASK WHILE AT CAMP?
Your family will not be required to wear a face mask during most of their time at camp. However, there are a few exceptions to this. Families will need to wear a face mask on opening day until they arrive at their assigned cabin. They will also need to wear a face mask during any situation that might require proximity to someone other than their family. We are adding at least one cloth facemask to the packing list, but we will also have some for sale in the camp store should you need to purchase one.
WILL STAFF BE REQUIRED TO WEAR MASKS?
Camp Oak Hill staff will be required to wear a face mask during check in and check out, when in close proximity to families, and when preparing and serving food.
HOW WILL MEALS WORK?
Families will continue to wash their hands at our handwashing stations prior to entering the dining hall. Families will eat together. All families will share the dining room area, but each will have their own assigned table in the dining hall. Families will be served in a line by kitchen staff wearing masks. Our dining hall sanitation will be enhanced this year and include thorough cleaning between meals.
WHAT IS THE REFUND POLICY?
Current cancellation policy remains intact as follows:
If a family elects to cancel their registration(s), all deposits are non-refundable as stated on registration website.
Remaining balance of retreat fees paid (not including deposit) are refundable up to 15 calendar days before the opening day of the registered session.
If a family cannot attend camp due to sickness and/or quarantine requirements, the balance of their camp fees (not including deposit) will be refundable after a health care provider's documentation has been provided.
IF COH cancels a session, families will have the following options:
Donate a portion or the full amount of the camp fees (not including deposit) to COH to help offset the financial impact of COVID-19 and ensure camp in the future.

Transfer registration to a later date in 2020 or to Spring 2021.
Please be reminded that deposits are non-refundable.