Welcome Parents!
We are so excited that your campers will be joining us this summer! With this summer being different similar to 2020, we have some forms/protocols we're asking you to review prior to arrival at camp. Please see below for detailed information.
We anticipate a summer full of fun and look forward to having your camper with us! Please let us know if you have any questions prior to camp. Our 2021 Camp FAQs that address specific COVID-19 questions can be found HERE. We are excited to see you soon!
We are requiring all campers to have a negative COVID PCR test administered by a medical professional within 72 hours prior to their arrival at camp. If a camper has chosen to receive the COVID vaccination, the PCR test is not required. Documentation must be provided for either option.
2021 Camper Packing List
The following is recommended based on Sunday-Friday stay at camp. Please adjust as needed.
BEDDING
1 blanket (lightweight) OR sleeping bag
Twin size sheet set
1 pillow w/ pillowcase
1 laundry bag (NO plastic bags)
TOILETRIES
1 bath towels + 1 lake/pool towel
2 washcloths
Toothbrush & Toothpaste
Comb/Brush
Soap & Shampoo
Sunscreen
Shower Shoes (flip-flops/slides work well)
CLOTHING
6 changes of underwear
6 pairs of socks
6 pairs of shorts/gym shorts
6 t-shirts
2 sets of clothes to get messy
1 poncho or raincoat
1 pair closed-toe shoes (tennis shoes encouraged, crocs don't count!)
1 pair strappy sandals that stay on your feet (chacos, tevas, keens, crocs, etc) – flip-flops/slides only for showers
2 swimsuits (one-piece or tankini that covers midsection)
Sleepwear
1 Wacky Wednesday outfit (t-shirt, socks)
Optional: sunglasses
Optional: 1 set of "nice" clothes, such as
Polo/khakis, sundress, etc. to wear on closing night
OTHER ITEMS
Bible
Flashlight
Insect Repellant
Water Bottle
Washable gaiter-style masks (1-2)
Optional: Fishing equipment, camera
Optional: Stationery & Stamps
FOR TWO-WEEK SESSION AND YOUTH WEEK:
4 pairs of clothes to get messy
Hawaiian shirt
An all-black outfit
All blue outfit + all red outfit
Neon clothes
2 white t-shirts
Christmas outfit
Two-Week/Session 4 Only: July 4th outfit/accessories
DO NOT BRING
Cell Phones
Personal electronics, including iPods/iPads and handheld video games
Knives, guns, nuclear bombs or weapons of any kind
Tobacco, electronic cigarettes, alcohol, illegal drugs
Fireworks
Skateboards, skates, or "heelies"
Archery equipment
If any of these items are brought, they will be confiscated, stored, and returned to the parent upon checkout.
Preparing Your Child for Camp/ Registration Checklist
Camper online forms complete no later than

two weeks prior to your camper's arrival at camp.

(

Click here to login to your account)

PLEASE NOTE:

A physician's signature is REQUIRED for camp and your camper must have a physical within the past 12 MONTHS

Cabin mate request filled out

two weeks prior to your camper's arrival at camp.

Camp Store is an additional charge to registration fees. You can add camp store under the subprograms option on the camper portal.


If you are planning to send mail to your camper, we HIGHLY encourage you to drop off all mail at the Camp Store on check-in day, rather than mailing it to camp during the session. Dropping off mail on-site will ensure your campers will receive it on time.

Please remember to label ALL personal items (towels, clothes, shoes, bibles, etc.) with your camper's name. This year is especially important to ensure your camper's items (including luggage) are well-labeled!

Please note: Female campers need a one-piece bathing suit or a tankini that covers the midsection

.

ALL campers will be provided a face covering to help promote the safety of all of our campers and staff, but please be sure to bring at least 1-2 additional washable gaiter-style face masks for your camper.
Important Forms Needed
All campers must have a physical within 12 months arrival of camp. Please have the following form filled out by a physician: Camper Medical Form
In an effort to minimize illness at camp we ask that you check on the health of your camper daily beginning 10 days prior to camp. We want to make sure we are starting each session "clean" with healthy campers and this begins at home. Please bring the completed Health Screening/Temperature Log Form to camp on opening day.
Please make sure your camper fulfills the following requirements:
Your child has not been around anyone with any of the symptoms or diagnosis of COVID-19 in the 10 days before the start of camp
No one in your household has been sick in the 14 days prior to camp
Your child has not traveled internationally in the last 14 days.
Your child has adhered to our state's guidelines regarding COVID-19.
(Contact us at info@campoakhill.org if you have any questions.)
2021 Check-in and Check out Procedures
Drop off 2:30-4pm (Alphabetical by Last Name): 2:30-3:00pm shift OR 3:00-3:30pm OR 3:30-4:00pm shift
Drive-through Check-in Procedure: 
**Please be looking for an email the Friday before your session begins for your designated check in time.**
Check-in Procedure:
Temperature Check:

Please see designated staff to have your child's temperature taken. Temperature to be recorded in log and handed to a nurse at stop #3.

Paperwork:

 Authorized pickup. Any questions on paperwork can be answered at this station.

Nurses Check-in:

All cars will go past the nurses station. Nurses will conduct Opening Day Health Screening of camper as well as log any meds they may turn in. Temperature log will be handed in at this station. 

Camp Store:

Items for purchase will be displayed on the front porch of our dining hall.

CASH OR CHECK WILL NOT BE ACCEPTED.

We apologize for this inconvenience. 

Luggage: No need to step out of your car! Staff will gladly unload your camper's luggage at this station. 

Campers will also be dropped off at this location and directed towards their cabin. (Think School Car-line)

Enjoy your week while your camper has a ton of fun at camp!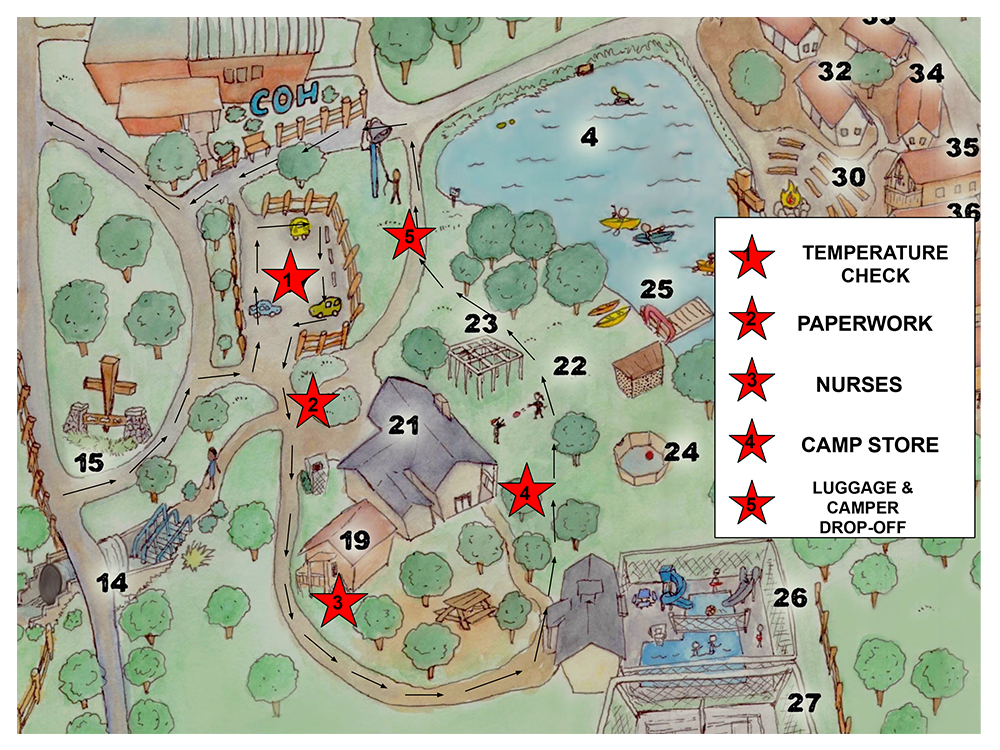 In case of RAINY DAYS, please use the following path for check-in procedures:
Check-out Procedure:
11:00AM-12:30PM
Shifts: 11-11:30 OR 11:30-12 OR 12-12:30
Authorized Pick Up Sign Out

Nurses Station

Luggage/Camper Pick Up

See you next summer (if not before)!!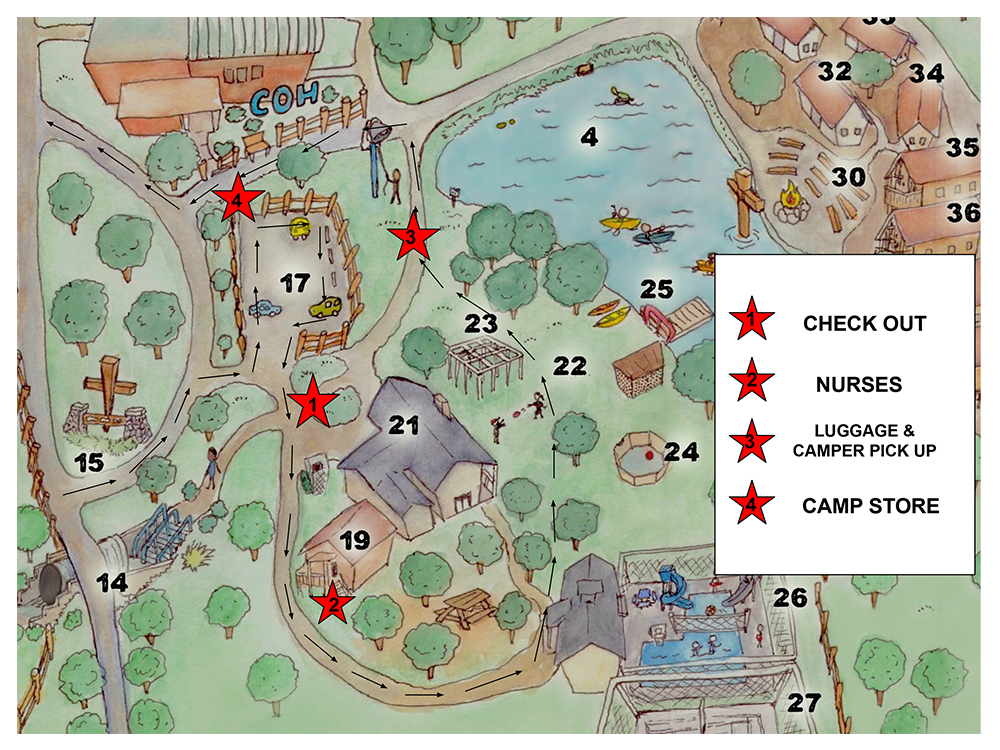 Medications
No Nebulizer Treatments will be done at camp this summer. Only emergency inhalers and spacers will be allowed.

If you are bringing medications for your child to take during camp, ensure they are in the original prescription container.

NO baggies of pills or pill organizers allowed.

Please place all medications in a ziplock bag with your camper's name and DOB clearly printed on the outside. Be prepared to speak with our medical staff during check-in to give clear instructions for when each medication is to be taken. If these steps are not taken, we will not be able to distribute your child's medication. The ONLY medications that will be allowed in the cabin are EpiPens for severe allergies or rescue inhalers for severe respiratory needs. If your child brings an EpiPen or rescue inhaler, please inform the medical staff that they will be keeping those items with them.