Retreat Activities & Facilities
Step away from the routine to relax and bond at Camp Oak Hill! Take a look at all that we have to offer!
We can accomodate 225+ overnight guests at Camp Oak Hill in our air-conditioned, traditional sleepaway camp-style cabins. Each cabin includes bunk beds with twin sized mattresses as well as dressers.
Legacy Cabins
These 8 cabins can accommodate 16 people each, with indoor bathrooms and new bunk beds, while still maintaining the feel of being at "camp."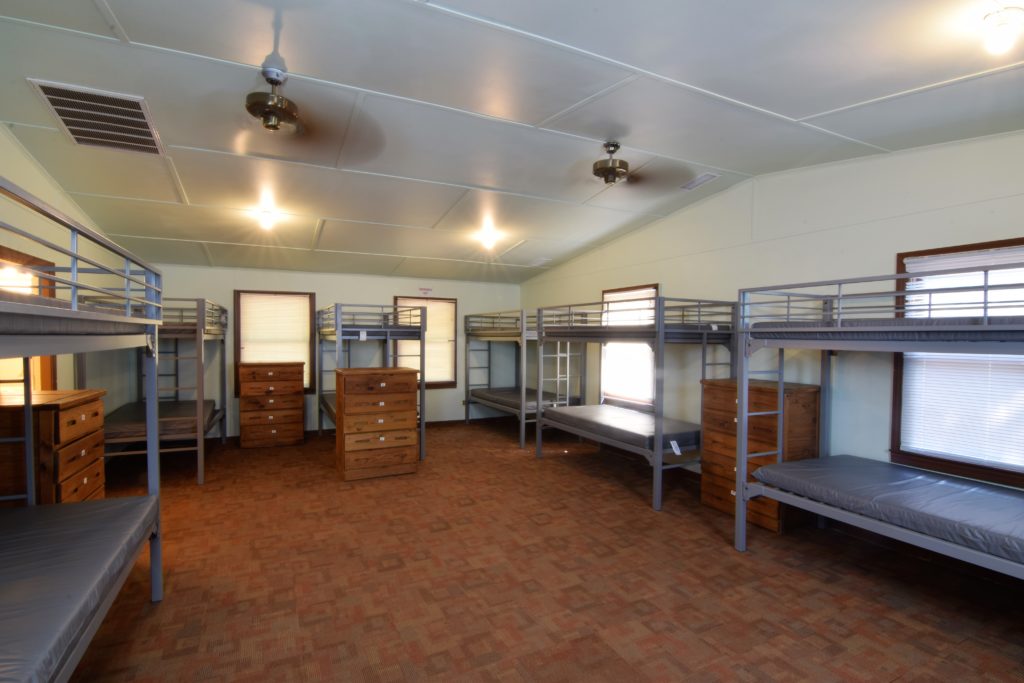 Lakeside Cabins
These 4 cabins can accomdate between 20 to 28 people each, with indoor bathooms and relaxing front porches overlooking one of our lakes!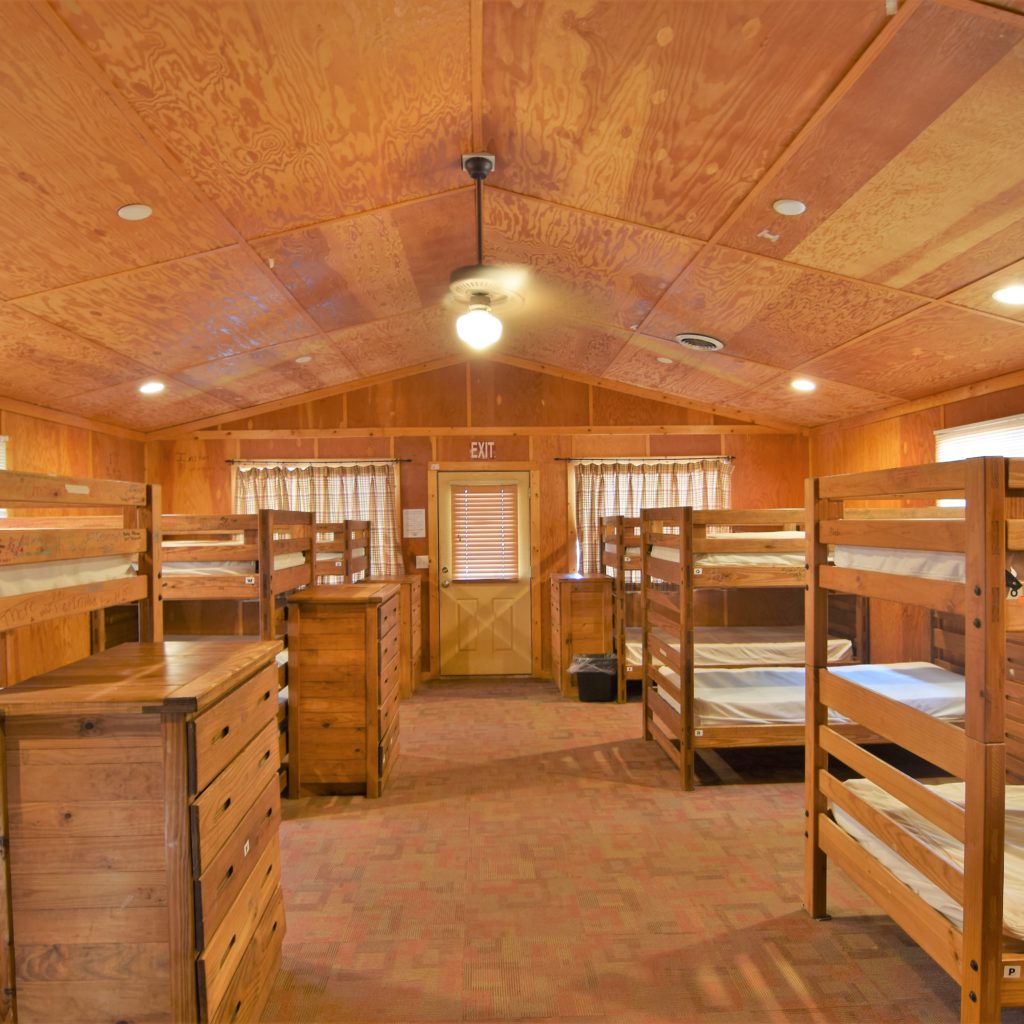 Group Leader House
Located just across the road, the Group Leader House includes 4 private bedrooms, each with their own full bathroom. This space allows group leaders the perfect space to recharge and relax while their group is at Camp Oak Hill.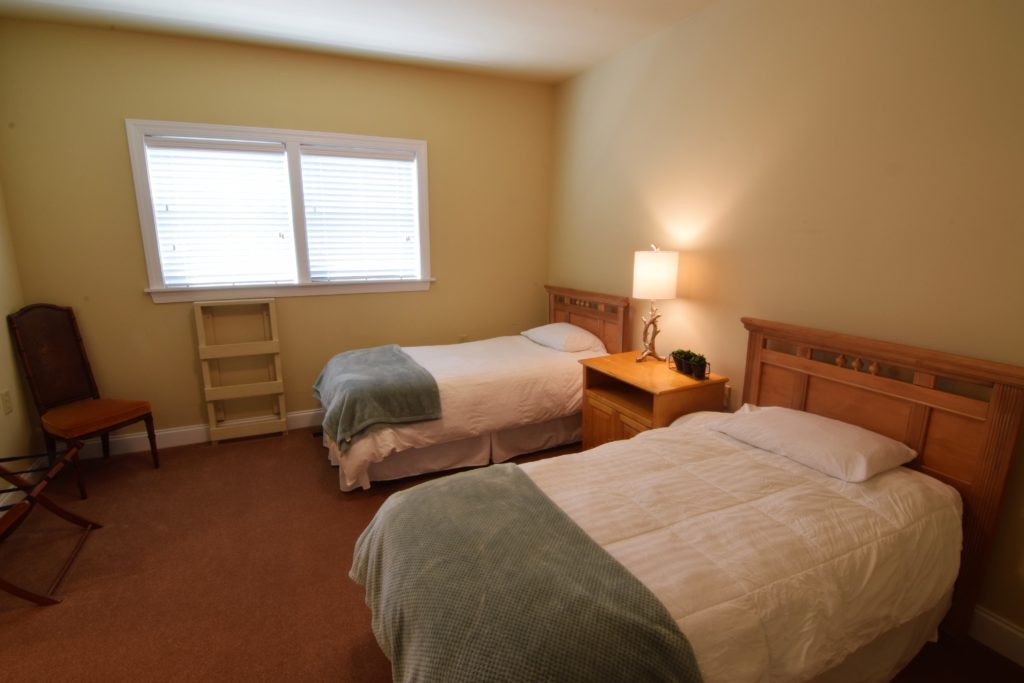 From large group rooms seating up to 300 people, to breakout rooms for small groups, there's a variety of standard meeting space options available! There are also several fun and unique meeting spaces, including an outdoor amphitheater by the lake, massive front porch, "old school" gym, and fireside in the dining hall. 
Large Group Room
Great Oak seats 300 combined and is equipped with A/V systems and a stage, can also be split into sections of 200 (Red Oak) and 100 seats (Blue Oak).
All rooms can be set up a variety of ways and tables are available upon request.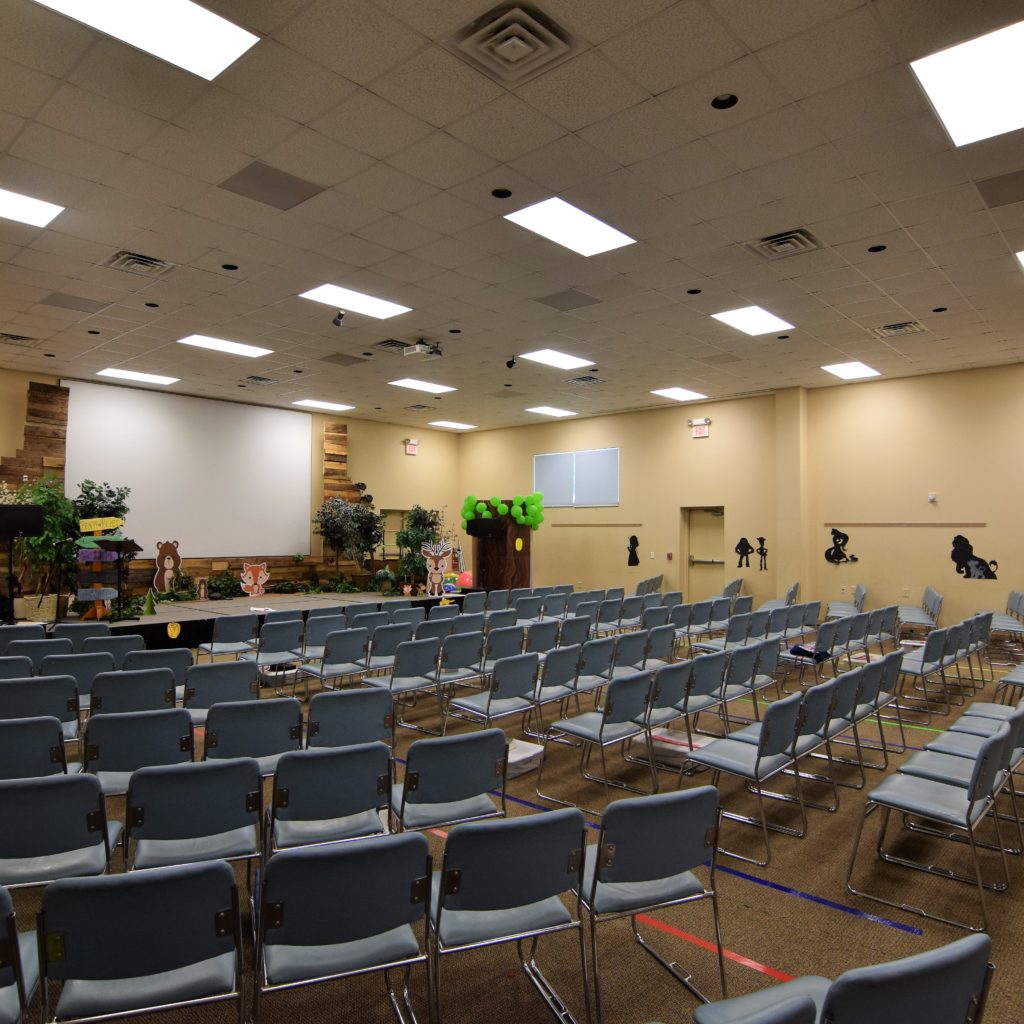 Classrooms/Breakout Rooms
Acorn Room seats 12, can also be set up as an office for use during retreat stay and contains a large whiteboard.
Seedling Room seats 20 and contains a large whiteboard.
Sapling Room seats 32 and contains a large whiteboard.
All rooms can be set up a variety of ways and tables are available upon request.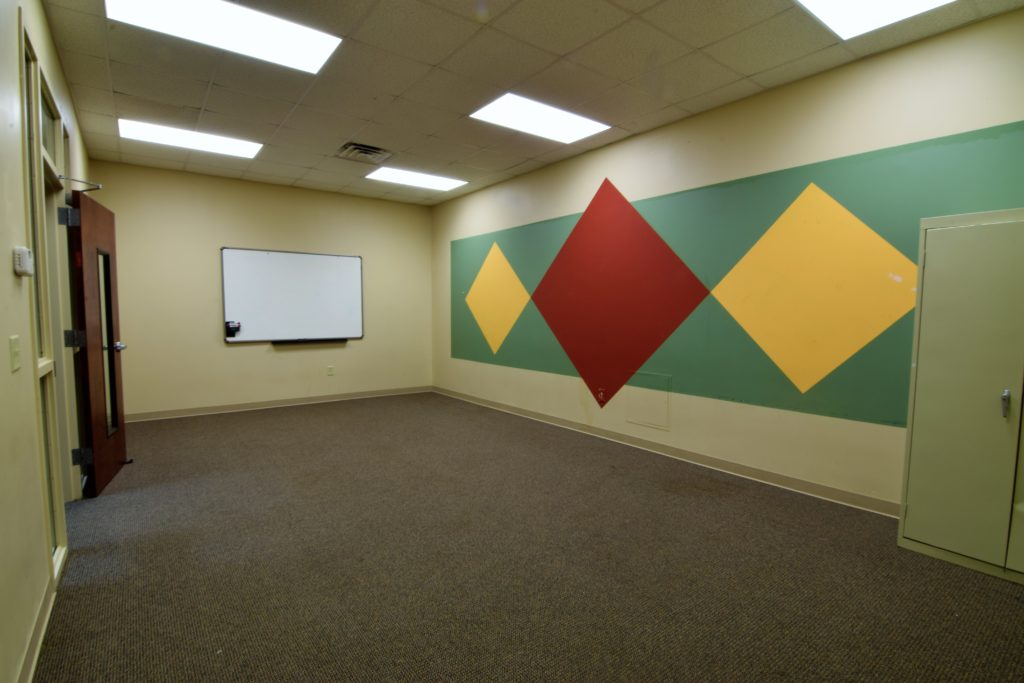 Outdoor Amphitheater
The perfect place for outdoor rallies or quiet reflection times, with seating for 200+ and stringlighting for use in the evenings. Also features a large firepit for use upon request.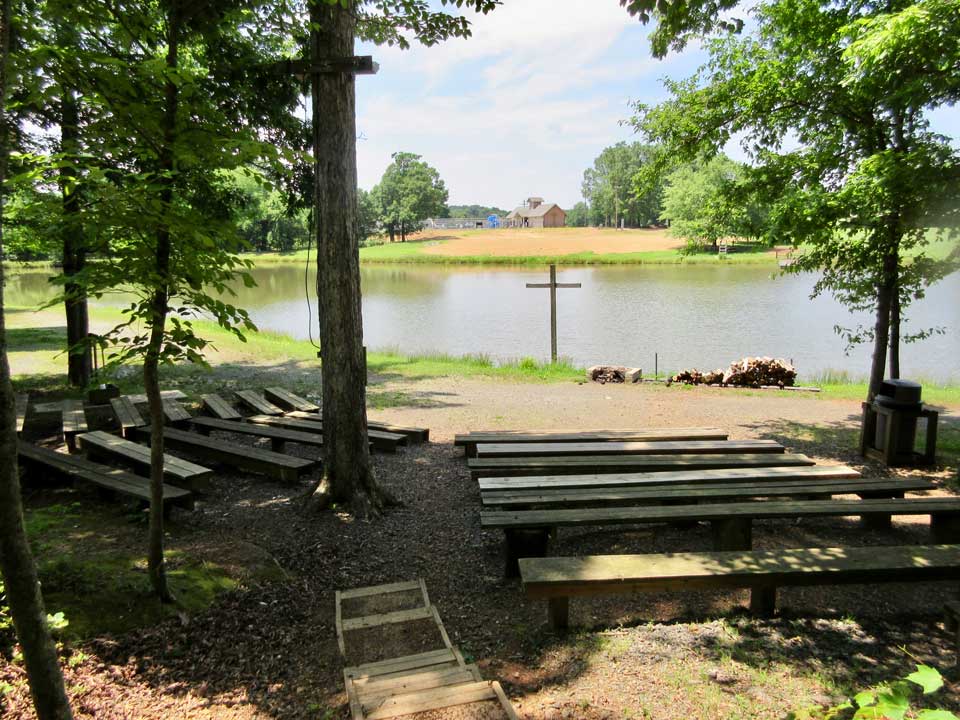 Unique Meeting Spaces
We love to think outside of the box with groups to change things up for a unique experience upon request. We've had groups gather in our cozy lounge, on the bleachers of our historic gym, around the warm fireplace in our dining hall, in rocking chairs along our massive front porch or even on picnic tabels and hammocks in our outdoor relaxation area!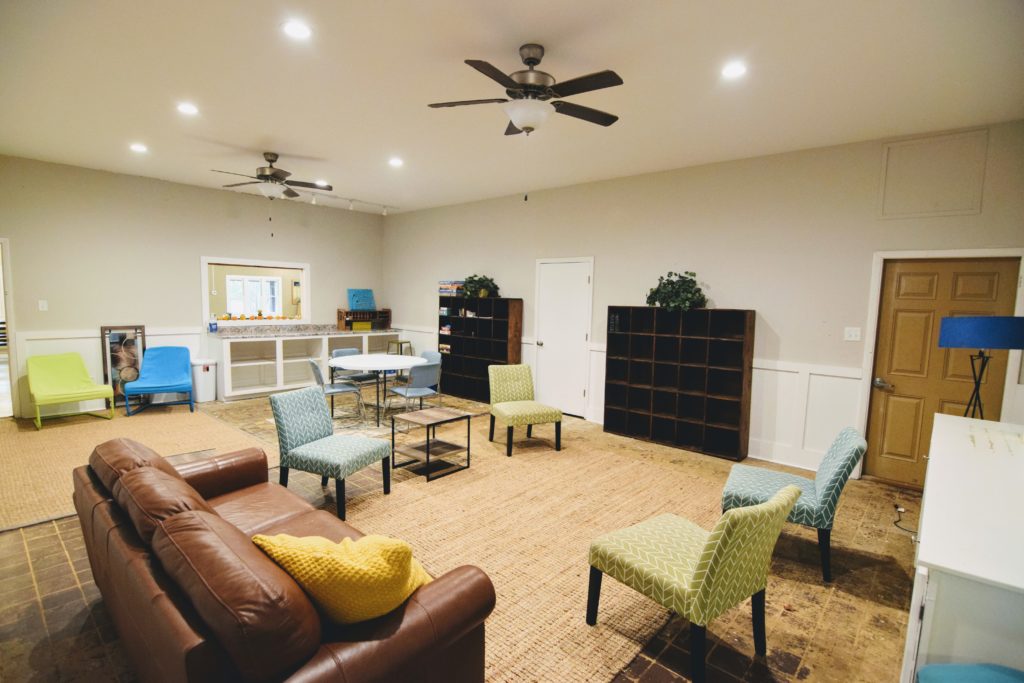 These high-fun or high-intensity activities are available to our retreat groups at reasonable rates!
Team Building/Challenge Course
Facilitated by our expertly trained staff, our unique team building exercisies and 10-element challenge course will bring the best out of your group, improve communication and show them what they can accomplish together!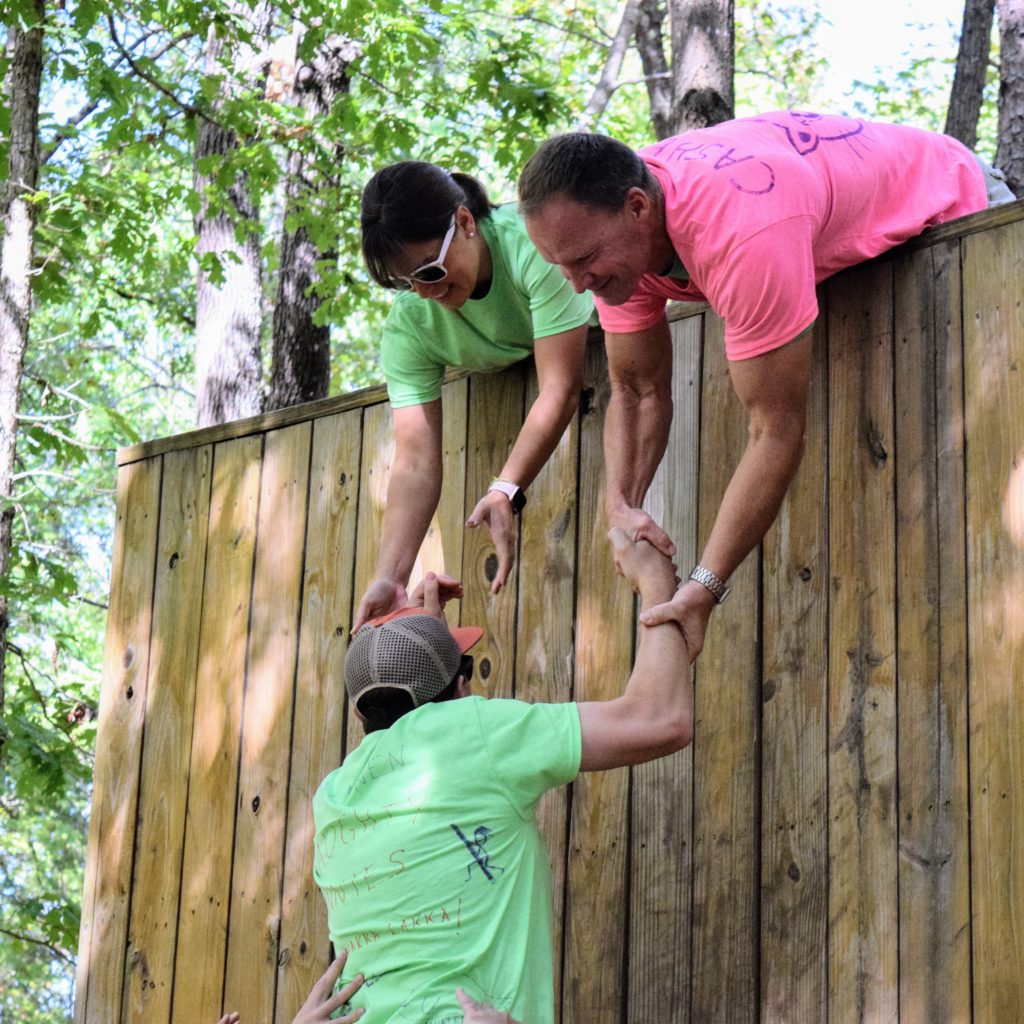 Boating
Take advantage of our fleet of boats for an array of skill levels and types of fun. From the traditional kayaks and canoes to the unique corkles and wig-wags, there's fun for all!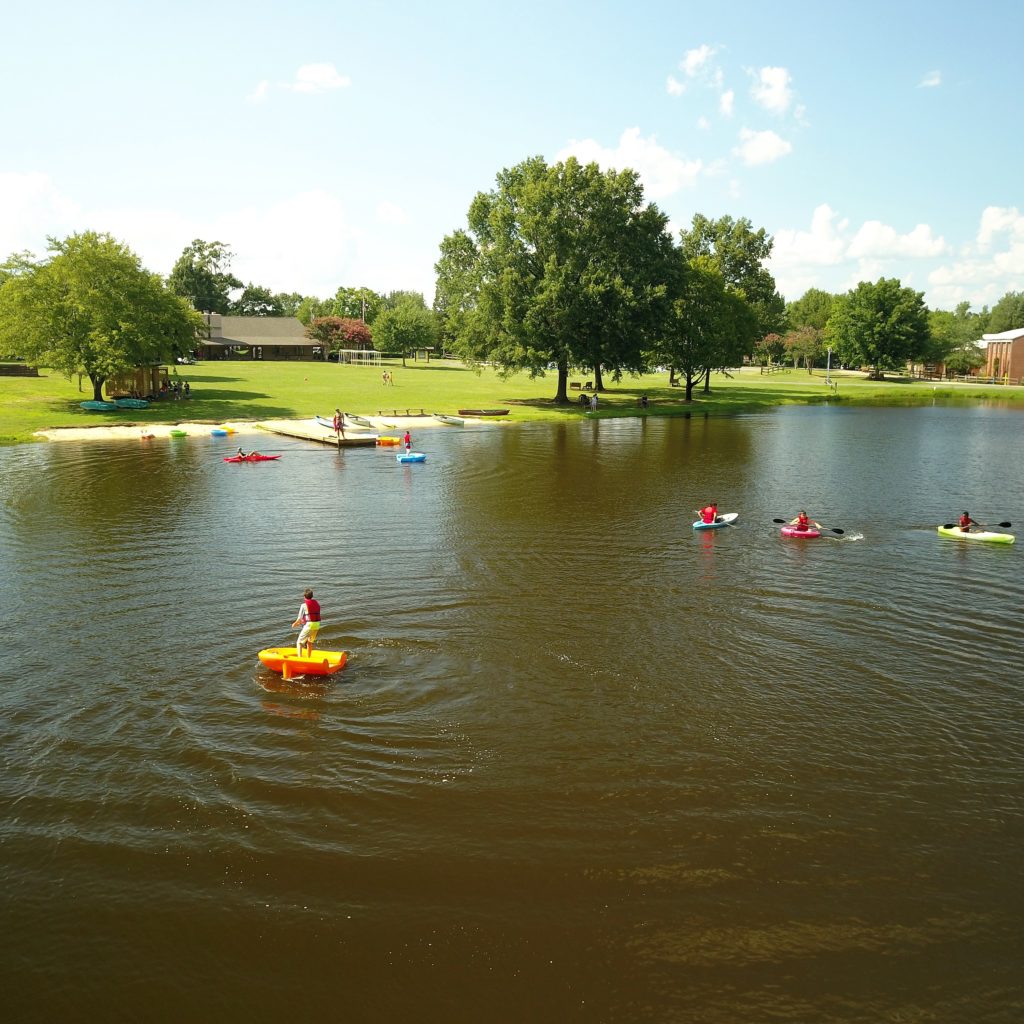 Zipline
Fun for all, our double zipline drops from the top of our climbing tower into one of our lakes. The perfect combination of water, exhilaration, and trying a new experience!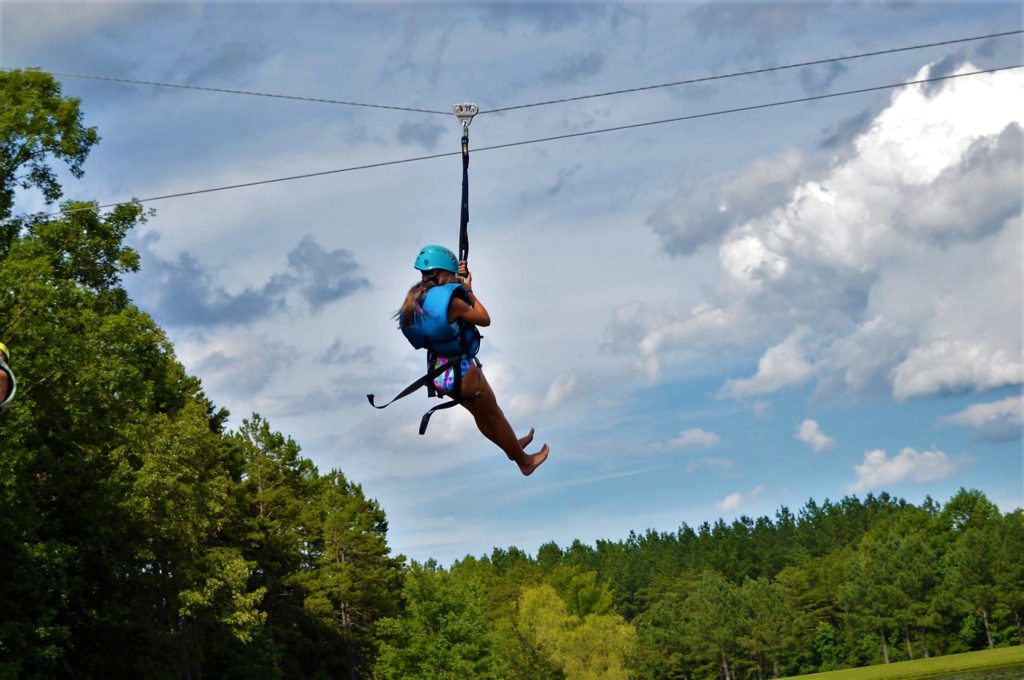 Wet Willie (Giant Water Slide)
The Wet Willie, a.k.a. Sir William, is our giant water slide. Whether a young kid or a kid at heart all enjoy this slide, trying it for the first time or trying to beat the record of 4.3 seconds!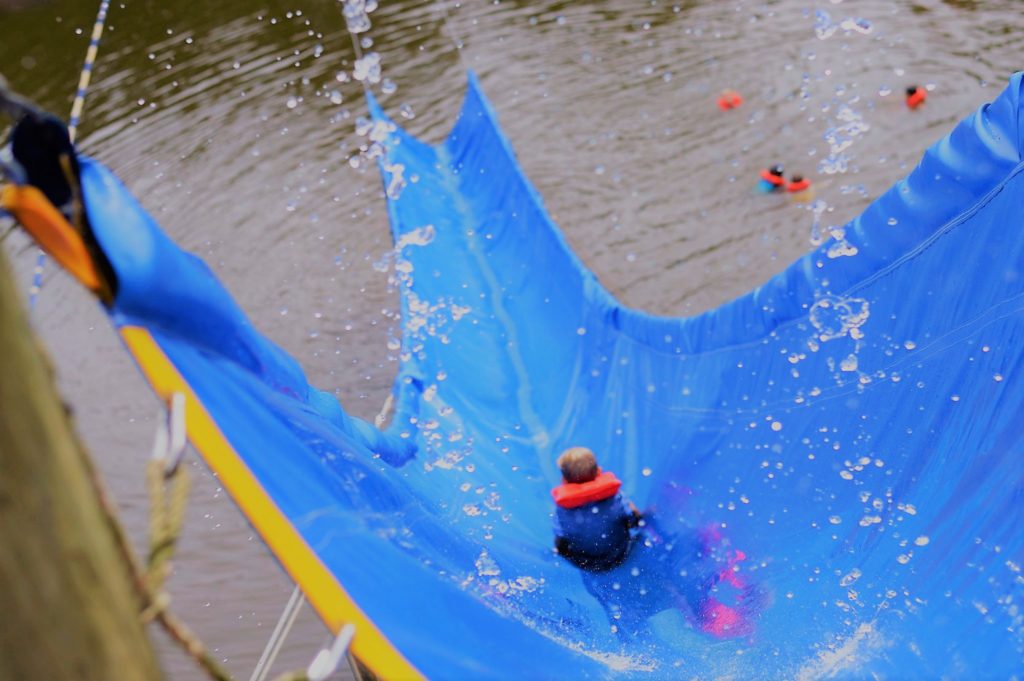 Swimming Pool
Our newly-built pool and poolhouse, features "full-court" water basketball, a volleyball net, and a pair of water slides! The pool deck and poolhouse includes shaded picnic tables and chairs for relaxing and large bathrooms for changing.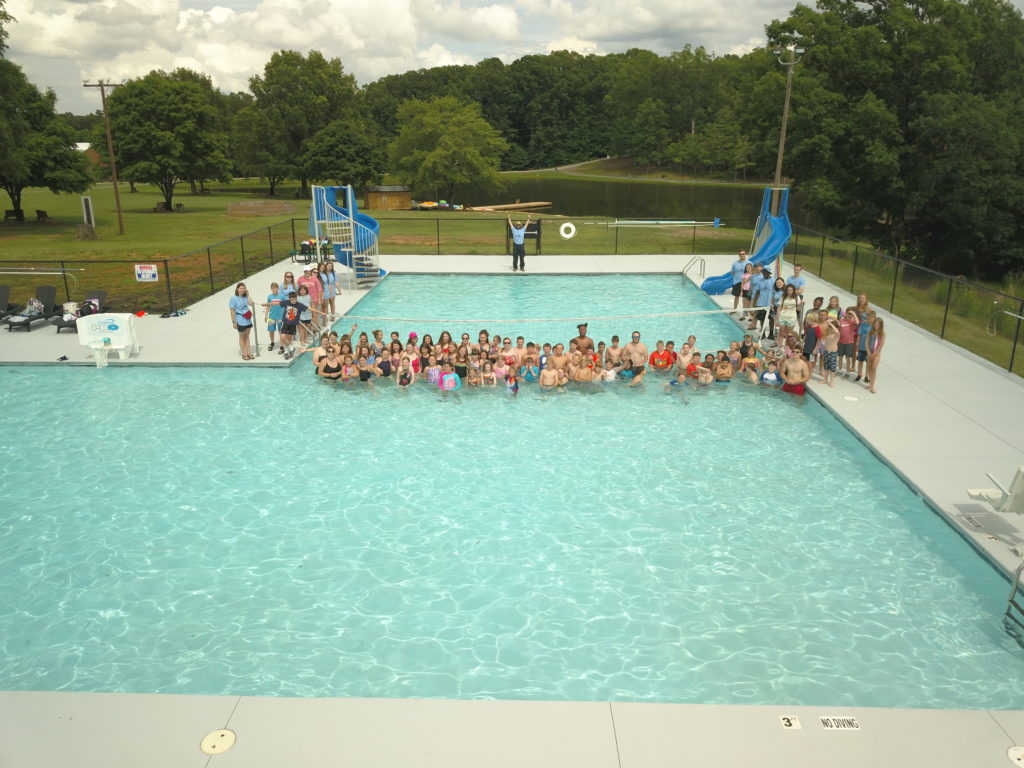 Water Trampoline
One of the newest and most popular activities at Camp Oak Hill! This massive water trampoline can be found in one of our lakes. A favorite pastime is watching people attempt to make it to the end of the twisty log.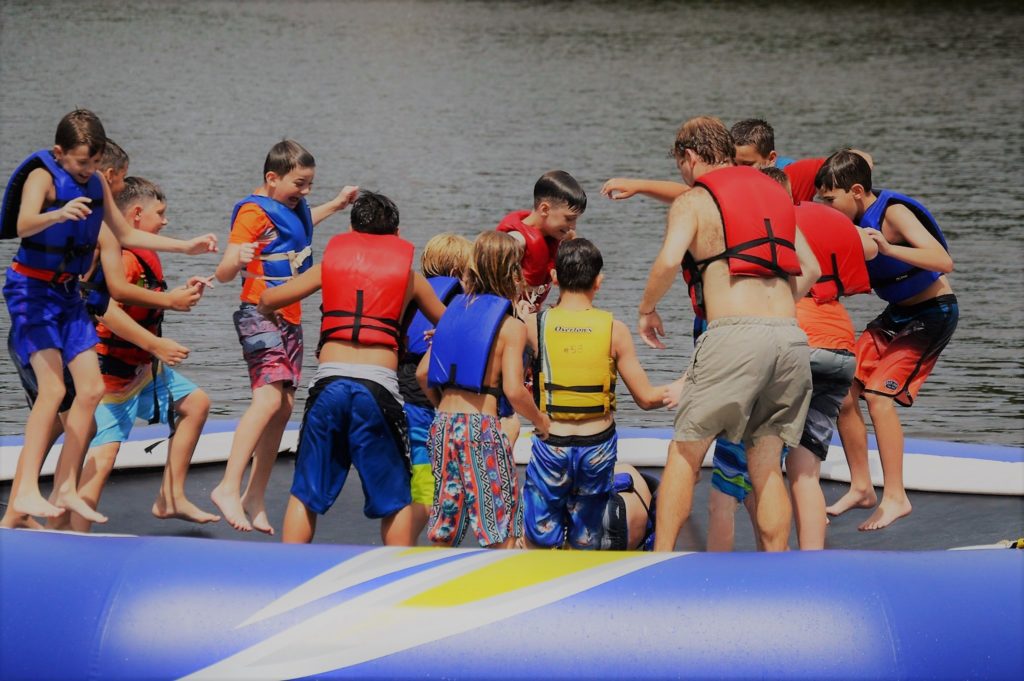 There's so much to do at Camp Oak Hill. Here are some of the options that are included as a part of your stay with us!
Front Lawn Activities
Our expansive front lawn is often the focal point of any group's time here at Camp Oak Hill, therefore, we offer activities sure it is surrounded by activities such as, 9-Square-in-the-Air, Gaga Ball, volleyball, Spikeball, cornhole,  football, frisbee and more!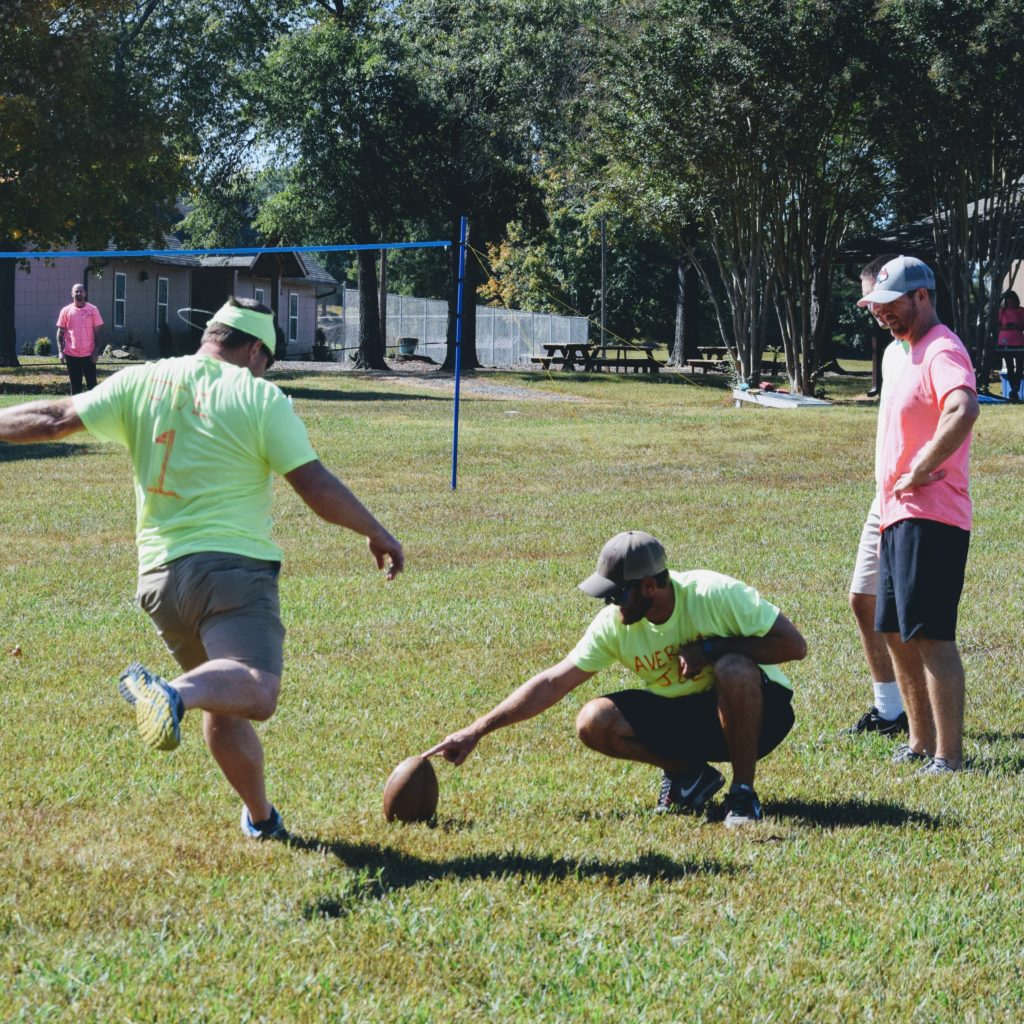 Gym Activities
Our historic gym is actually the original gym from Oak Hill High School! With a full court basketball court or two "mini courts" for a total of 6 basketball goals. The gym is also perfect for dodge ball, 4-square, indoor volleyball, futsol and more! Finally with 3 levels of built-in sideline-length bleachers on either side of the gym, there's plenty of spectator seating or space to have a group rally!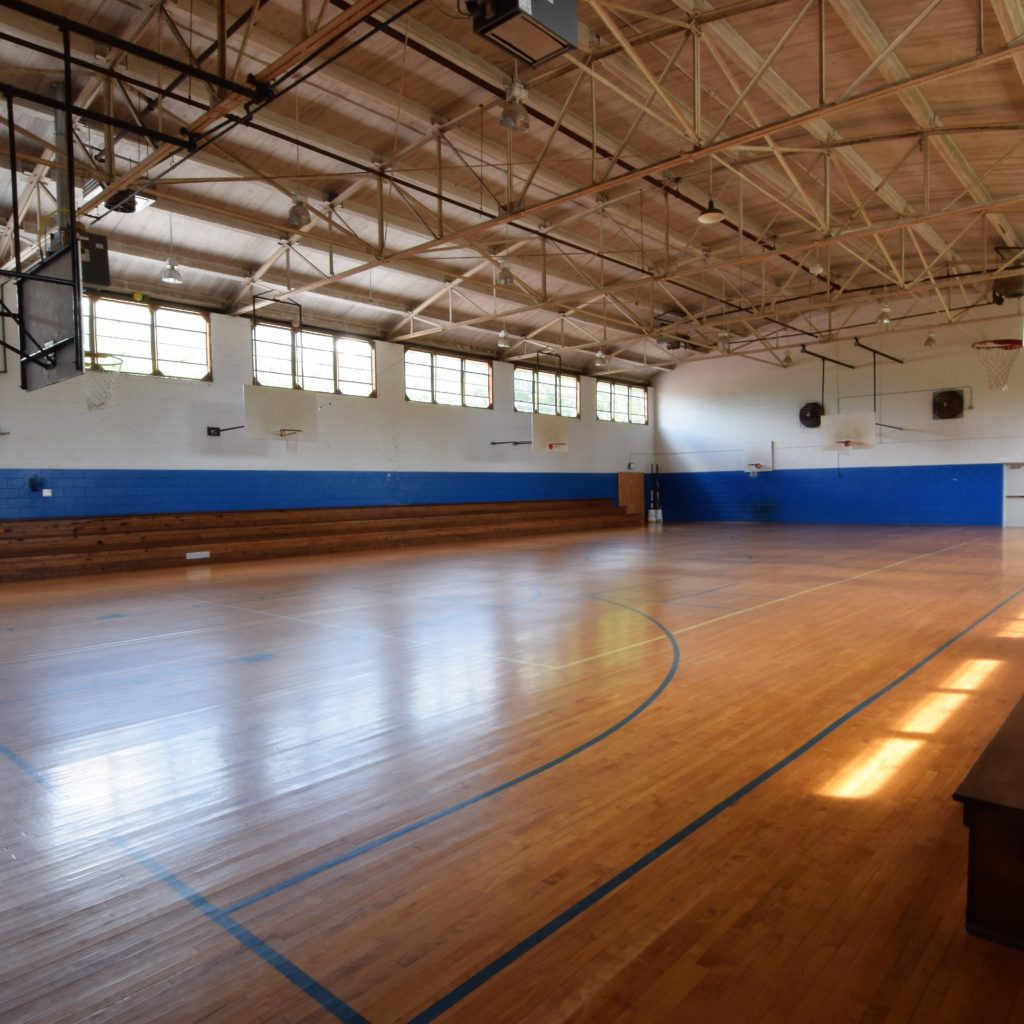 Sports Field Activities
The home of some of the most beautiful sunsets in North Carolina, our massive sports field is a place to intense competition and crazy fun events! Whether your group is interested in soccer, kickball, ultimate frisbee, football, softball or something else there is plenty of space for it all!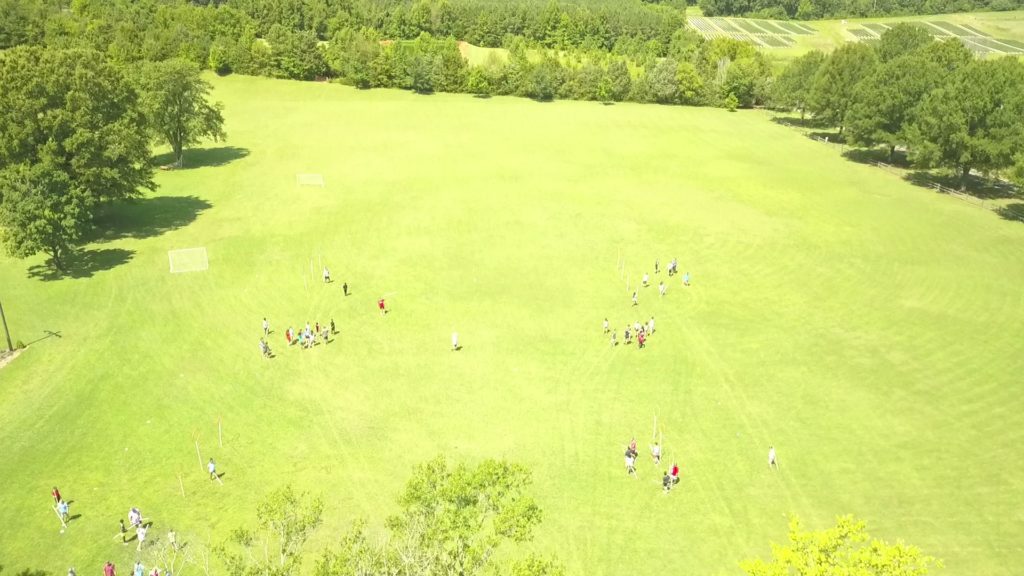 Other Activities
Even if sports and competition isn't your thing, there's never a shortage of things to do at Camp Oak Hill. You can often find people fishing in our lakes, walking or running along our paths and trails, enjoying a rocking chair, hammocking, or watching all of the birds that call our specially built "bird apartments" home.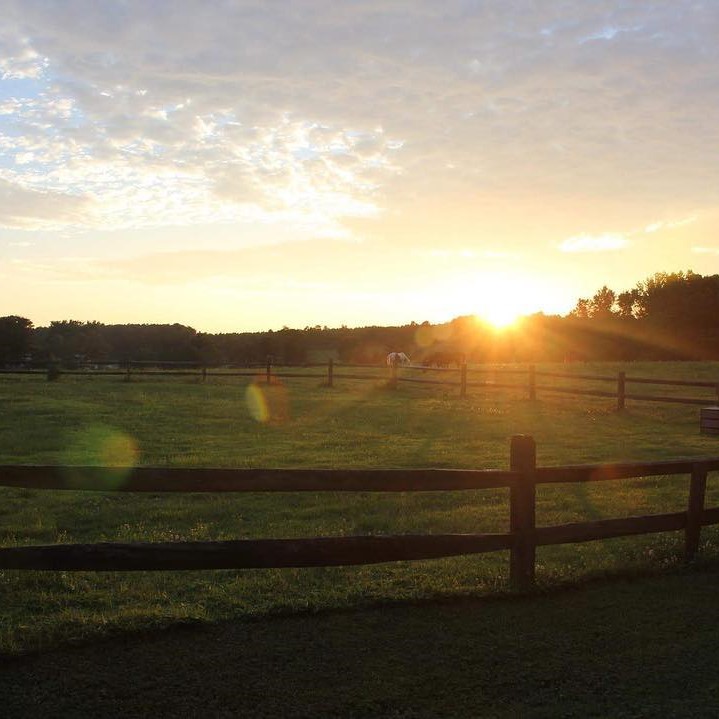 Our delicious meals are served in our dining hall either cafeteria or family-style.
Dining Hall
Our dining hall can accommodate approximately 300 individuals at a time seating 8 to 10 per table. A large fireplace and front porch lends tranquil views down to the lake and is a favorite spot to relax before and after meals.
Picnic Areas
With a dozen large picnic tables scattered under a grove of massive oak trees just outside our dining hall, this is a great area for outdoor eating, and directly adjacent to a large field that's perfect for spreading out a picnic blanket.
*We have additional picnic tables scattered throughout our grounds as well.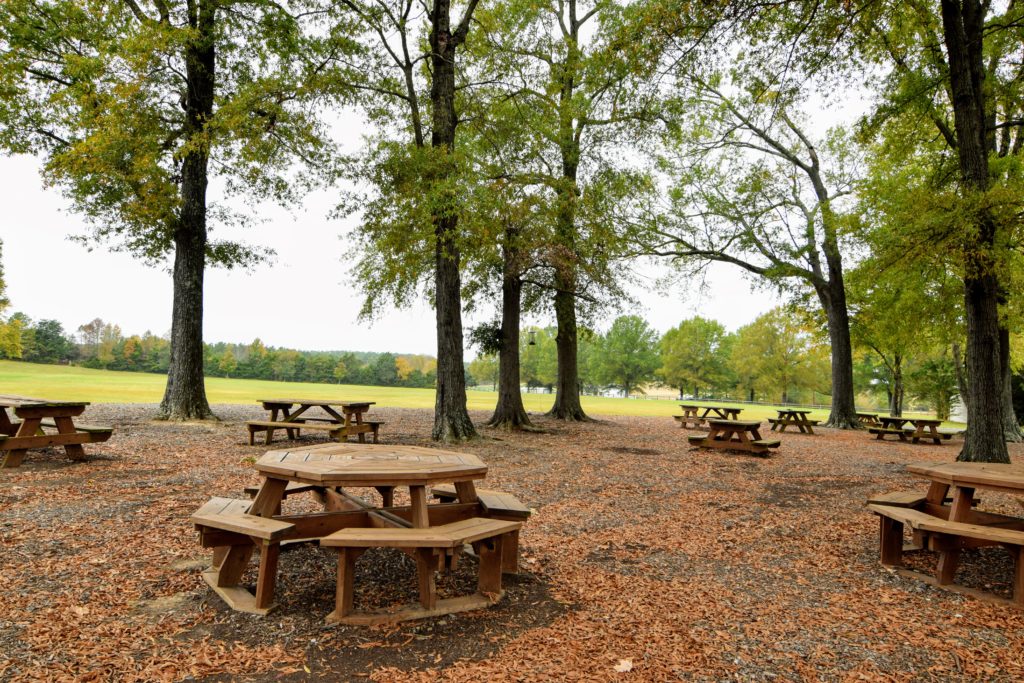 Safety is a big priority at Camp Oak Hill, as such, we maintain the proper accreditation, safety procedures and trainings for our staff. 
ACA
With 12,000 camps in the U.S., Camp Oak Hill is one of only 2,500 camps that is accredited by the American Camping Association (ACA). ACA Accreditation assures that we comply with 300 health, safety, and program quality standards.
CCCA
Camp Oak Hill is a member in good standing with the Christian Camp and Conference Association.
CPR/AED/First Aid
We make sure all seasonal staff involved with activities are CPR/AED/First Aid Certified.
Each of our special activities is facilitated by our trained staff that are well versed in both the safety and fun aspects of each activity.
Lifeguards
Our lifeguards are certified for both pool and dark-water (lakes) through the American Red Cross. 
Challenge Course Training
Our staff is certified through Challenge Towers and trained in facilitation, safety and fun!