Activities and Programs are the lifeblood of the summer camp experience! 
Strong friendships and lifelong lessons are born of shared moments, activities, and accomplishments. Our daily activities and programs provide our campers opportunities to learn and grow together. 
*While activities and programs vary week to week and summer to summer, these give a taste of what to expect during a summer at Camp Oak Hill!

These are some of the typical camp-wide events that we have every week (and multiple times a week)!
Shaving Cream War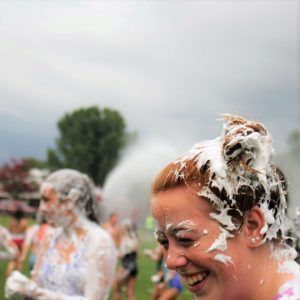 Ask campers what their favorite program is at Camp Oak Hill, and you'll hear a lot of them say (or shout) "SHAVING CREAM WAR"! We bring in a local fire truck to help get the festivities going with a massive spray of water and the craziness just continues from there! Lots of laughing, surprises and unique hairstyles are always ensured! 
Star Wars Sock Wars
Fun for big and little campers, part competition, part silliness. Star War Sock Wars… "a blast, it is", and who knows maybe we'll even get a visit from Baby Yoda next summer!
OMC
Organized Mass Chaos (affectionately know as "OMC") is exactly what it sounds like, impossible to describe, impossible to not get messy, and impossible to not have fun! 
Luau/Rave Night
A favorite of our older campers, Luau under the lights of Wet Willie, lots of fruit, dancing, contests and fun! You never know where our Rave will take place, activity center, gym, tunnel, dining hall, but you do know that it will by hype! 
Mission Impossible
A more recent addition and instant favorite of campers and counselors! The mission is simple, (should you choose to accept it), get your entire cabin from one side of camp to the other….think you can complete Mission Impossible?
Theme Days
These are days when all of camp revolves around the theme of the day from morning until evening. Past days include Pajamapalooza, Survivor, Highland Games, Marvel Games, Christmas in July and more!
The quintessential summer camp activities, from kayaking to taking a trip down our 100′ "Wet Willie" water slide!
Wet Willie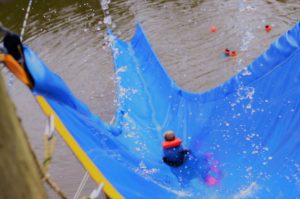 The Wet Willie, a.k.a. Sir William, is our giant water slide. Fun for little and big kids, whether they are trying it for the first time or trying to beat the record of 4.3 seconds!
Water Trampoline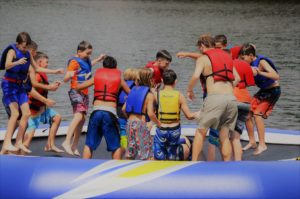 One of the newest and most popular activities at Camp Oak Hill! This massive water trampoline can be found in one of our lakes. A favorite pastime is watching campers attempt to make it to the end of the twisty log!
Boating
Campers can try out our fleet of boats designed for an array of skill levels. From the traditional kayaks and canoes to the unique Corcls and Wgwags, there's fun for all!
Pool
Our newly-built pool, features "full-court" water basketball, volleyball, and a pair of water slides! A favorite feature is that it's no more than 4ft deep everywhere, making the pool loads of fun even for smaller campers.
Zipline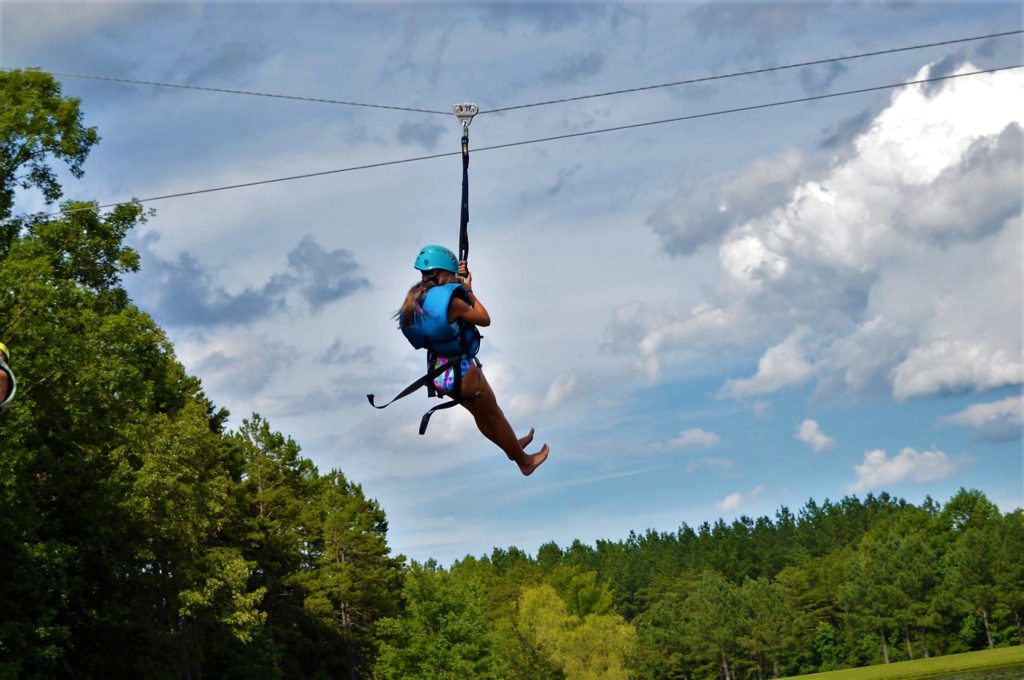 The funnest way to face your fears, our double zipline drops from the top of the climbing tower into one of our lakes. The perfect combination of water, exhilaration, and trying a new experience with your new friends!
Slip-n-Slide
A classic summer activity! You never know where you'll find the slip-n-slide set up around COH, but you can be sure it will be fun wherever it is! 
An intregal part of any great week at summer camp! These activities provide opportunities for a range of interests and abilities.
Low Ropes
Our 10-element low-ropes (or team building) course is designed to create opportunities for groups to come together to problem solve, learn more about each other and work together. If your cabin is ready for it, maybe you'll get a chance to tackle the infamous "Beast"!
Archery & Riflery
A favorite of many campers, we offer both archery and riflery at Camp Oak Hill. Giving campers the chance to either learn a new skill or hone and refine one that they've already learned.
Volleyball
Volleyball is always a fun way to learn new skills and build teamwork. That's why we have 4 different volleyball nets at Camp Oak Hill. You can play in the gym, on sand, in grass, or even in the pool.
Marshery Tag
Marshery tag combines the intensity of tag, the skill of archery and the uniqueness of camp!
Gym
Located in our historic gym, many a good basketball game has happened here. Other fun gym games include dodgeball, wall-ball, four-square, knockout, relay races and volleyball!
Field Sports
Ultimate Frisbee, soccer, lacrosse, kickball, Spikeball, football, softball, tennis, and more! If it is a sport, we probably play it at Camp Oak Hill!
Arts & Crafts
You never know what will be created during arts & crafts. Camp friendship bracelets are often a favorite, and fun to create!  
Freedom of Choice (FOCs)
These activities are counselor led and camper selected. Each camper has the "freedom of choice" to select from a variety of options offered by counselors based on their talents and passions. Past options have included: acting/drama, gardening, bench-making, drumming, water step aerobics, wrestling, a variety of sports and more!
Front Lawnin'
Ahhh, the most relaxing (or most intense) part of camp. No matter how you're feeling the front lawn is perfect. Whether it is relaxing in a rocking chair enjoying the view and sitting on the dock fishing or leaping into the gaga pit for another round of fun or trying to become king in nine-square-in-the-air! 
These events and experiences have been part of Camp Oak Hill for many years and are often unique to summer camp at Camp Oak Hill!
COHlympics
Usually on the 4th of July, the most epic day of the summer, it's the Flintstones vs. the Jetsons, in the COHlympics! All of camp is split up into one of the two teams, and we compete throughout the day to earn points. Just like in the Olympics there are multiple events happening at once, making for a crazy day of fun, competition and memories!
Run for the Roses
Probably one of the coolest things at Camp Oak Hill (and one of the longest running traditions). On the final day of each session we all split into wacky teams and have a relay race all over camp, finishing with a lap around the lake to the bell. The victorious team's coaches jump into the lake to celebrate!
Opening Campfire
If it is your 1st summer at COH, this is where you start to learn all of the camp songs, dances, skits, and other traditions. If it's your 8th summer, its where you see your best friends again and sing your favorite songs while teaching others the COH traditions!
Closing Ceremony
This final celebration at the end of each camp session combines everyone's favorite camp songs, dances, skits and more. Plus select FOCs will show what they learned and we'll get a chance to see the premire of the End of Week video! Parents are always encouraged and welcomed to attend the closing ceremony before checking out their camper.
Ice Cream Blitz Blowout Banana Fiesta Gala Party Thing What-What
The reward to the boy and girl cabin winners of the Golden Toilet Cabin Cleanup award each session. The longest ice cream sundaes you'll ever see, combined with an epic dance party, makes this one event you don't want to miss!
Final Cookout
Held on the last night of each session, we have a cookout with burgers, dogs and all the fixin's. Campers and counselors tend to dress up a little bit as it is the perfect time to take pictures with all of your new friends from the week.
Advanced Camper Experience (ACE) 10th Grade
Our "Advanced Camper Experience" (ACE) program is the 1st step in our Leadership Development Program (LDP) where we seek to help campers understand that their identity is in Christ. This experience includes an off-site day adventure and a service project. 
Day Trip
This changes year to year in order to best tailor the experince around each class of ACEs, as our desire is for the group to grow closer and spend time bonding away from camp with their cabin and counselors. Previous trips include time spent tubing down a river, bouncing around a trampoline park, taking in a Durham Bulls game and more!  
Service Project
With a service project we want the ACEs to have the opportunity to start giving back to the community around Camp Oak Hill. Some previous projects have included putting on a field day for local, low-income youth, serving at a food pantry, and beautfying the COH grounds (as a part of the "B" in the B.I.G. Service Program).
Leaders in Training Program (LIT) 11th Grade
The "Leaders In Training" (LIT) program is the 2nd step in our Leadership Development Program (LDP) and the culmination of the camper experience at COH. During these two weeks we focus on what it means to be a disciple of Jesus and challenging the LITs to live that out, personally, at camp, and for life. To catalyze this message the LITs go on a multi-day backpacking trip.
Backpacking Trip
Check Out The 2019 Trip Video! It's what all campers look forward to, that day they get to go on the LIT Hiking Trip! This is typically a 3 day, 20+ mile, backpacking trip across some of the most beautiful terrain in the eastern U.S.! We'll see wild ponies (and hopefully no bears), meet AT thru-hikers, cook our own meals, purify water on the trail, learn how far each of us is capable of going, and have the expereince of a lifetime in God's creation.
Service Project
This will be a project around the Camp Oak Hill grounds that allows each LIT group to leave their mark and improve COH (the "I" in the B.I.G. Service Program). Our hope is that one day these leaders will bring their own kids to camp and be able to tangibly point to the impact that they had on camp, just as camp had an impact on them.
LIT Hunt
There's no better word to describe the LIT Hunt than LEGENDARY! The craziest, most unique, and boldest of hiding places, all to avoid being pied by one of the infamous 'Condiment Pies'!
Counselor Assistant Program (CAP) 12th Grade
The CAP (Counselor Assistant Program) offers an experience to rising high school seniors who desire to be a counselor at Camp Oak Hill. This program will allow up to 10 total CAPs the opportunity to experience firsthand the role of a camp counselor. Our hope is that through this challenging, fun and special experience, these campers will further develop leadership skills and grow in faith, with a goal of becoming future COH counselors. 
In-Cabin Experience
All CAPs are assigned to a cabin (one week with older campers and one week with younger campers) while they are at camp. This invaluable opportunity gives them experience with a range of age groups and situations, allowing the leader inside of each of them to shine through. It also allows for CAPs to discover and for the Camp Oak Hill staff to identify the talents and gifts the CAPs show while serving in this role for building up the next generation.
Service Project
Each CAP class will have an opportunity to plant trees around camp leaving a legacy of growth for generations to come (the "G" in the B.I.G. Service Program).
Applications
Interested campers are required to fill out an application. To gain access to the application and for more information please visit our Summer Staff page.